FAQs
Planetfall
Planetfall is the first expansion to the Parallel TCG.
The Manifest begins on October 25th at 3pm ET and closes on October 27th at 10am ET.
The Public Sale starts on October 28th at 1pm for all those using referral links and 3pm for everyone else. The Public Sale will end by the end of day on the 28th.
The Planetfall Referral Program enables you to share a unique referral link. When individuals use your link, they gain instant game access and if they purchase Planetfall packs, you will receive 5% of their total spend.
The Referral Program has ended.
Three types of packs are available:
Player Packs [50,000 Packs available]:
Geared for players who want to fill their decks with NFT cards, priced at .018 ETH, and primarily contain Common, Uncommon, and rare cards but still offers a chance at prime rarity pulls.
Collector Packs [20,659 Packs available]:
Premium offerings priced at .18 ETH, featuring rare cards, cosmetics, keys, and additional items. Each purchase includes a Planetfall Promo Card Back which grants you one Raffle Ticket for the Ultimate Pack Giveaway.
collectors Crates:
Bundles of 10 Collector Packs, offered at a discounted price of 1.6 ETH, and a Planetfall Promo Card Back, which grants you 11 raffle tickets for the Ultimate Pack.
The Ultimate Pack, which contains 1 Masterpiece, 3 Keys, and 6 SE cards, will be awarded to 5 lucky Planetfall Promo Cardback holders in the days following the conclusion of the Presale (we'll be snapshotting wallets x time after the presale).
The Public portion of the Presale operates on a First Come First Served basis with a transaction limit of 111 Packs or 11 Crates (any combination). It will be held on October 28th, starting at 5pm ET. If you'd like to purchase more, you may return to the sales page after completing a transaction.
Payments are accepted in $ETH on Mainnet.
After purchase, you will be sent your Packs/Crates to your purchasing wallet. Packs will open at a later date, currently projected for Q4 2023.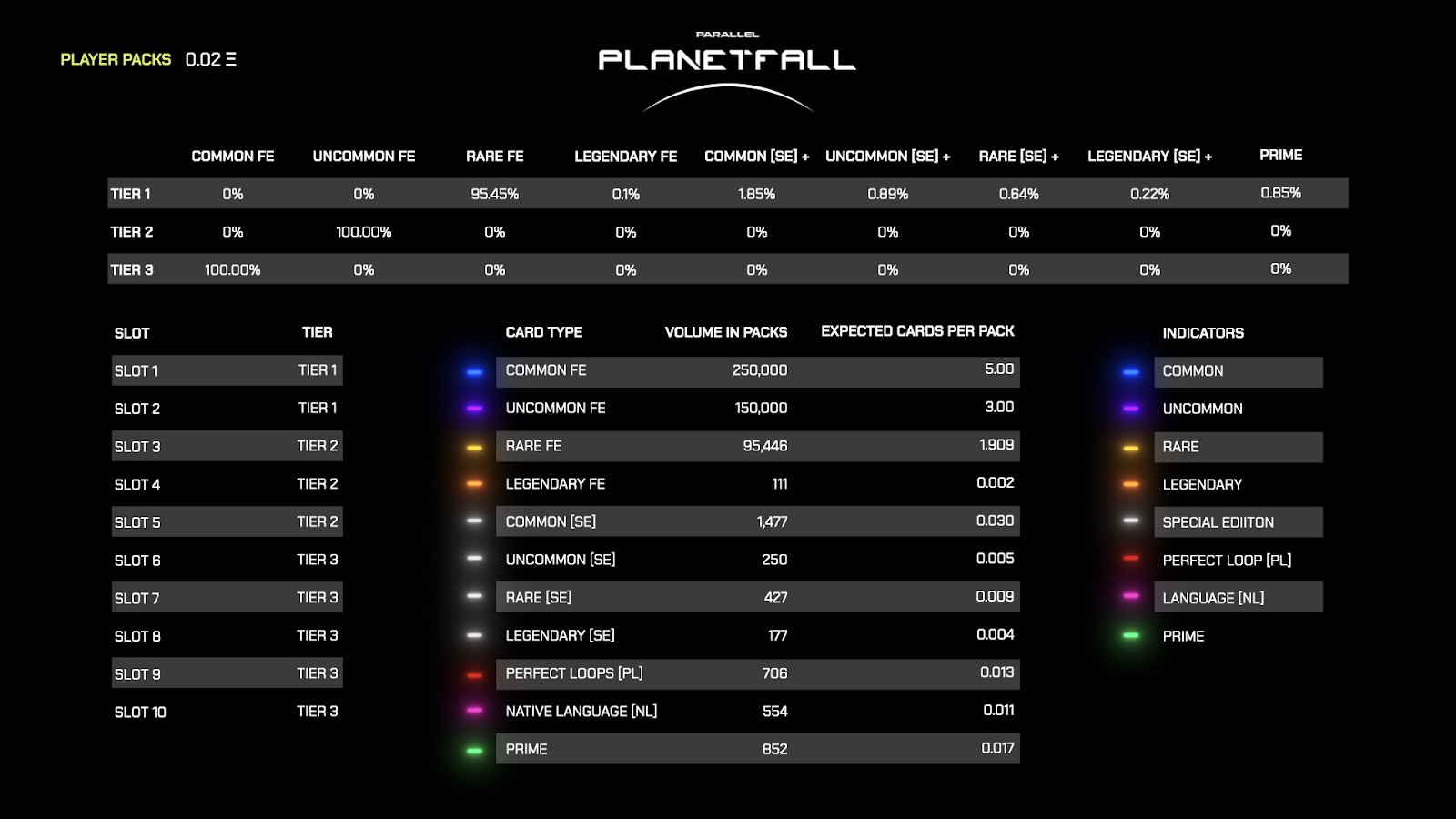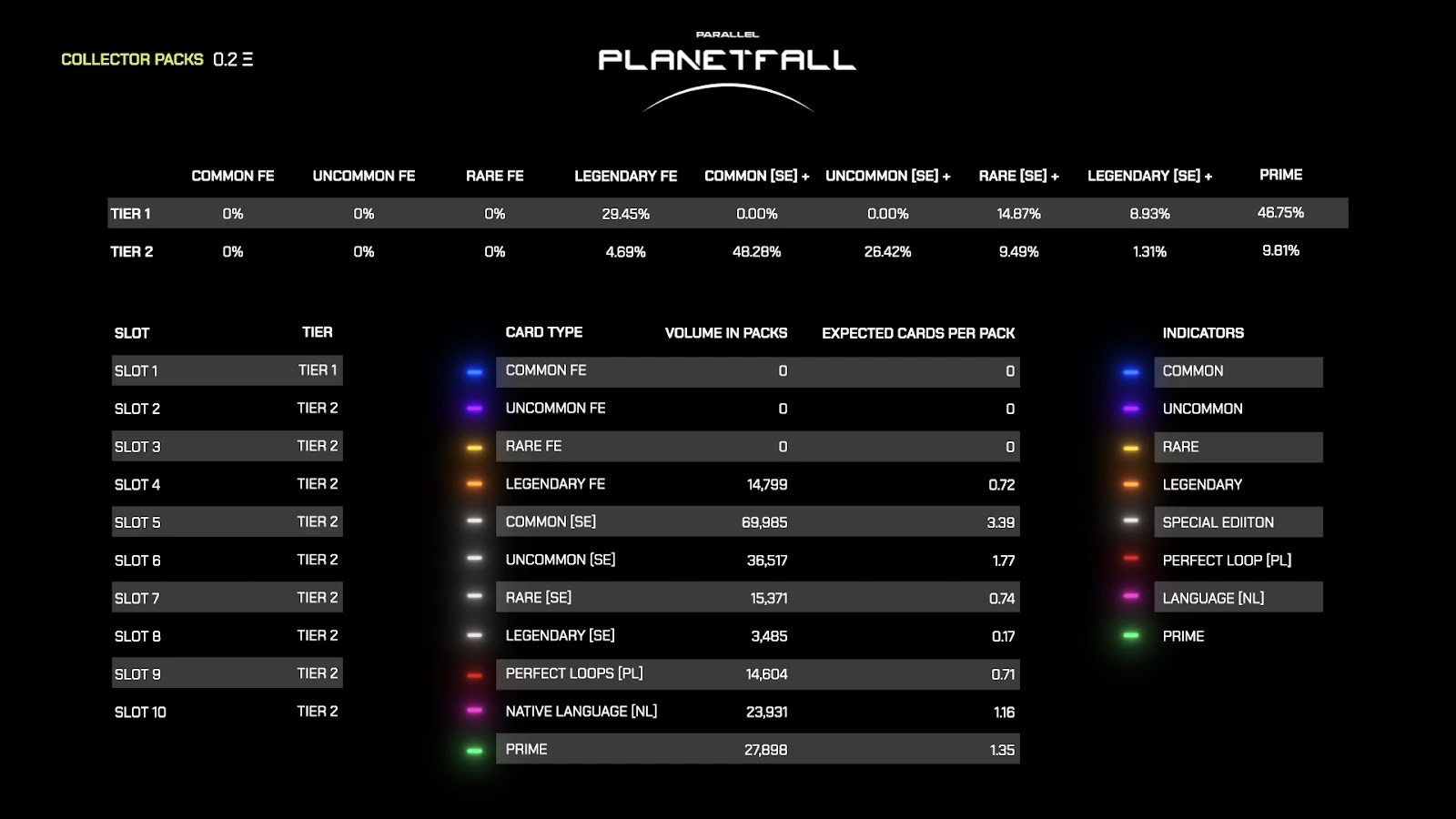 The Planetfall Presale Manifest is an exclusive list of dedicated Parallel Collectors who will be granted first access to the upcoming Planetfall Collector Presale.
The Snapshot for Prime holdings was taken at 2:30pm ET on October 18th. The Manifest Snapshot for all other qualifications was taken on Thursday, October 19th at 5pm ET.
● Prime Key holders
● Avatar holders
● MP holders
● Terminal holders
● Premium Battle pass holders
● Active Parallel Players (achieved MMR within the current season)
● Holders of over 111 $PRIME before the upcoming snapshot
The Manifest offers no limit for Player Packs and a tiered limit for Collector Packs.
You qualify on a per asset basis
T1: 1 crate/10 packs - Prime Key, Masterpiece
T2: 1 pack - Avatar, Terminal, S3 Premium Pass, S3 MMR, PRIME > 111 in snapshot.
(For example: Having 2 Avatars + 3 Terminals is equal to 5 pack purchases in Manifest.)